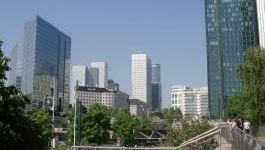 Eiffage: raises stake in APRR and ADELAC
(CercleFinance.com) - Eiffage has entered into an agreement to acquire 4% of the capital of MAF2, an indirect shareholder of APRR (50% minus one share) and ADELAC (25.
1%).

"Once completed, this negotiated transaction with the current MAF2 shareholders, representing a net investment of close to 150 million euros, will allow Eiffage to indirectly strengthen by 2% its ownership in APRR and ADELAC (A41 north) through MAF2 and to support the evolution of its governance," the company said.

In order to accompany APRR in its tasks, a service agreement will be concluded with Eiffage.

Eiffage will finance its investment in MAF2 from its free cash flow.


Copyright (c) 2019 CercleFinance.com. All rights reserved.