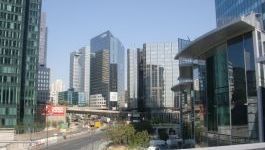 Vinci: contract for future line 14 (South) of 'Grand Paris'
(CercleFinance.com) - Vinci Construction, in a consortium with Spie Batignolles, has announced that it has been selected by the RATP for the creation of batch GC02 of the future line 14 (South), which will connect the station Olympiades (13th district of Paris) to Orly airport.


The contract, which is worth almost 400 million euros excluding tax, and which has a total duration of 72 months, includes the construction of a 4.6-kilometre long tunnel and the new station, Kremlin Bicêtre Hôpital.

The work for this contract, which is part of the Grand Paris Express project, will employ nearly 250 people. As the missing link between central Paris and Orly, line 14 (South) will benefit over 260,000 inhabitants of Paris, Val-de-Marne and Essonne.


Copyright (c) 2018 CercleFinance.com. All rights reserved.