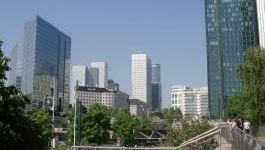 Vinci: creates a start-up dedicated to urban biodiversity.
(CercleFinance.com) - AgroParisTech and Vinci Construction have announced the creation of Urbalia, a start-up dedicated to integrating biodiversity and urban agriculture into urban development projects.


Urbalia will provide communities, developers and construction groups with solutions to integrate biodiversity which promotes the sustainability of their projects.

The structure will be able to rely on an expert and multidisciplinary team to design natural spaces in cities, to improve the living conditions of city dwellers and the resilience of cities.


Copyright (c) 2017 CercleFinance.com. All rights reserved.