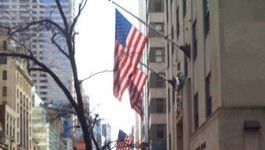 Vinci: 9m sales up 5.6%.
(CercleFinance.com) - The Vinci share is up 1.
1% the day after the group published 9m sales (to 30 September 2017) of 29.2 billion euros, up 5.6% in absolute terms and up 4.5% at a constant consolidation scope.

Revenues of concessions reached 5.3 billion euros, up 6% like-for-like, while the group's contracting businesses (Vinci Energies, Eurovia and Vinci Construction) posted 23.6 billion euros, up 3.4% at a constant consolidation scope.

Boosted by an order backlog of 30.6 billion euros at 30 September, which is up 9% y-o-y, Vinci expects growth in revenues, operating income and net income over the full-year.


Copyright (c) 2017 CercleFinance.com. All rights reserved.