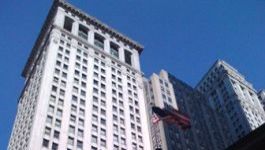 Thales: contract with the American Army
(CercleFinance.com) - On Tuesday afternoon Thales reported having signed a 37 million dollar (31.
7 million euro) contract to support the rapid deployment of the new US Army's Security Force Assistance Brigades.

Under its terms, the group will deliver IMBITR 2-channel radio terminals (for "Improved MBITR") of the type AN/PRC-148C, a variant of the MBITR radio terminal "Multiband Inter-Intra Team". This is the first 2-channel portable radio terminal to enhance tactical combat communications and to promote the interoperability of joint and coalition forces.

This 2-channel radio terminal meets the radio modernization needs of the US Department of Defense networks. It enables the soldier to have a tactical advantage and make the best decisions in real time through state-of-the-art tactical communications network technology.


Copyright (c) 2017 CercleFinance.com. All rights reserved.