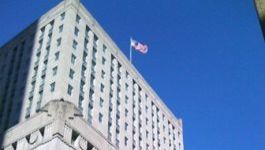 Sodexo: profitability improves in 2016-17.
(CercleFinance.com) - In Sodexo posted 2016-17 net income before non-recurrent items of 822 million euros, up 13% excluding currency effects, with an operating margin of 6.
4%, up 40 basis points excluding currency effects and before extraordinary costs.

Group revenues reached 20.7 billion euros over the past year, up 2.2%. Organic sales growth increased by 1.9%, with increases of 1.7% for on-site services and 7.7% for benefits and rewards services.

Sodexo is confident in its ability to achieve organic sales growth of between 2% and 4% in fiscal year 2017-18, excluding the impact of the 53rd week, with its operating margin maintained at 6.5%.


Copyright (c) 2017 CercleFinance.com. All rights reserved.