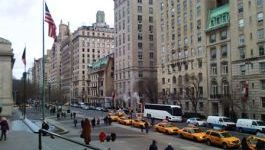 Eurazeo: sale of stake in ANF Immobilier complete.
(CercleFinance.com) - Eurazeo has announced the definitive completion of the sale of its stake in ANF Immobilier at a price of 22.
15 euros per share after the lifting of the different conditions precedent set out in the transfer agreement signed on 10 October.

The private equity firm made sale proceeds of 213 million euros, i.e. 2.3 times its investment, with an IRR of 13%. Proforma of this transaction, and taking into account recently announced transactions, Eurazeo now has cash of close to 700 million euros.

The sale of Eurazeo's majority block will be followed by a mandatory takeover bid from Icade on ANF Immobilier's remaining share capital at a price of 22.15 euros per share, an offer which is scheduled to be opened in November.


Copyright (c) 2017 CercleFinance.com. All rights reserved.