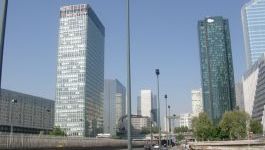 Natixis: new CEO for Natixis Interépargne.
(CercleFinance.com) - After trading on Friday Natixis announced that Fouad Chéhady has been appointed as head of Transformation and operational Excellence.
Meanwhile, Christophe Eglizeau has been appointed as CEO of Natixis Interépargne.

Reporting to Laurent Mignon, CEO of Natixis. Fouad Chehady, 55, will take office on 1 March. Holder of a Masters degree in Banking and Finance from the University of Strasbourg (1986), he also has a Masters degree from the Commercial Institute of Nancy (1987). Since 2008 he has been a board member in charge of the Finances and Transactions of the Fund of Caisse d'Epargne Normandie.

Holding an a MBA from the Rotterdam School of Management, Christophe Eglizeau, 50, joined Natixis in 2007 as corporate secretary of specialised financial Services. Since last year, he has been responsible for Transformation and operational excellence.


Copyright (c) 2017 CercleFinance.com. All rights reserved.