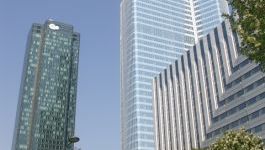 Axa: new commitments on climate change
(CercleFinance.com) - Insurance giant Axa has announced new decisions to accelerate its environmental commitments, including a four-fold increase of its previous investment target to 12 billion euros in 2020, or 2% of its proprietary managed assets.


The group also aims to quintuple its divestments in coal, for 2.4 billion euros, and withdraw from the main oil producers of oil from oil sands and associated pipeline operators, representing 700 million euros.

In addition, in terms of insurance, the company will no longer insure any new projects for the construction of coal-fired power plants, or any company involved in the extraction of oil sands and associated pipelines.


Copyright (c) 2017 CercleFinance.com. All rights reserved.