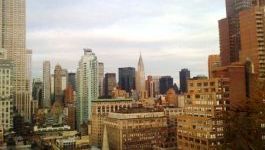 Sanofi: Q3 EPS down 4.5%.
(CercleFinance.com) - Sanofi has announced Q3 EPS of 1.
71 euros, down 4.5% (+1.1% at constant currencies), with operating income from activities of 2,911 million euros, up 5.1% at constant currencies.

Net sales came in at 9,053 million euros, up 0.3% (+4.7% at constant currencies), reflecting the change in scope of the CHC and Vaccines Global Business Units (GBUs). Like-for-like, net sales were stable (-0.2%).

Sanofi continues to expect EPS from activities that is broadly stable at constant currencies in 2017, barring any unforeseen adverse major events. FX factors are expected to impact EPS by between -1% and -2%, applying average rates in September 2017 to the rest of the year.


Copyright (c) 2017 CercleFinance.com. All rights reserved.