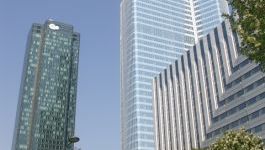 Bouygues: 9m earnings more than double.
(CercleFinance.com) - For the first nine months of 2017, Bouygues has posted net income, group share, which has more than doubled to 713 million euros.


Excluding extraordinary items, growth reached 60% at 659 million euros.

Underlying operating income increased by 37% to 976 million euros, meaning a one-point improvement in the margin to 4.1%, thanks to the good performance of Bouygues Telecom and TF1, for revenue growth of 3% to over 23.8 billion euros.

The conglomerate has confirmed its target of improving profitability in 2017; in particular with an upgrade for Bouygues Telecom's EBITDA margin target, which is now expected between 26% and 27% (against slightly above 25% previously).


Copyright (c) 2017 CercleFinance.com. All rights reserved.