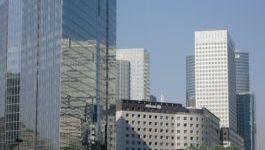 Total: refining margin up in Q3.
(CercleFinance.com) - According to the European Refining Margin indicator (ERMI), Total's refining margin increased to 48.
2 dollars per tonne in Q3 2017, from 41 dollars in Q2 and 25.5 dollars a year earlier.

The ERMI indicator represents a complex theoretical refinery of Northern Europe found in Rotterdam, which processes a cocktail of crude oil representative of the average supply of the area to supply the major listed products in the same area.

Furthermore, the energy company reported that the average price per barrel of Brent crude oil worked out at 52.1 dollars per barrel, the average sales price of liquids at 48.9 dollars/barrel, and that of gas at 4.05/Mbtu.


Copyright (c) 2017 CercleFinance.com. All rights reserved.