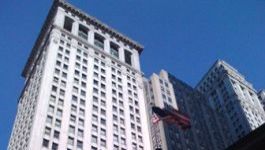 CNP Assurances: FY earnings up 7%
(CercleFinance.com) - CNP Assurances has reported net income, group share of 1,285 million euros, up 7% (+5.
6% at constant consolidation scope and exchange rates), with gross operating income of 2,889 million euros, up 9.5% (+7.2% in organic terms), for the past year.

Revenues reached 32.1 billion euros, up 1.9% (+0.7% in organic terms), with a margin on new business that is up at 23.6% (vs. 13.9% in 2016), thanks to the improvement in the group's product mix and a better economic context.

CNP Assurances has proposed a 5% increase in its dividend to 0.84 euro per share and says that it is approaching 2018 with confidence, thanks to improvements in the macroeconomic environment, the development of new partnerships and digital initiatives.


Copyright (c) 2018 CercleFinance.com. All rights reserved.