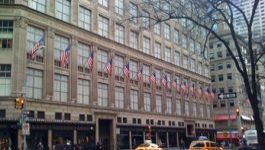 Carrefour: income down sharply in 2017
(CercleFinance.com) - Published after trading on Wednesday, Carrefour's FY accounts saw the group make a loss.


The French retail giant lamented a net loss, Group share of 531 million euros, against earnings of 746 million at end-2016.

Meanwhile, Ebitda came in at 3.64 billion euros, down 8.1% and down 6.4% at current exchange rates. As expected, underlying operating income also fell significantly; -14.7% at current exchange rates and -17.2% at constant exchange rates at roughly 2 billion euros.

Carrefour has attributed this poor performance to fierce competitive pressure, particularly in France; an increase in distribution costs in the Group's key markets; increased amortisation following the group's past policy of making heavy capex; and finally a more delicate situation in Argentina.

Finally, turnover rose by 2.7% at constant currencies and is up 3% at current currencies, reaching 88.24 billion euros.


Copyright (c) 2018 CercleFinance.com. All rights reserved.