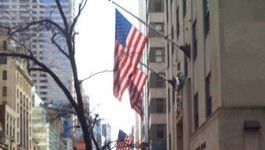 JCDecaux: launches a 'green' bus shelter
(CercleFinance.com) - JCDecaux Group said on Thursday evening that it has developed a new-generation bus shelter.
The new model is already available to local authorities and features a green roof that will contribute to reducing urban pollution.

"JCDecaux developed the Filtreo bus shelter in response to a study commissioned from the INRA (French national institute for agronomic research), which highlighted the possible impact of urban greening on air pollution. Filtreo is designed to reduce passengers' exposure to pollutants, particularly fine particles, at the kerbside," JCDecaux said.

The roof of the Filtreo bus shelter is actually a carpet of moss that captures and absorbs pollutants. The roof also includes a built-in ventilation system that sucks air in through the plant layer and blows it out again towards the users in the bus shelter.

"The first prototype will be installed in Lille, as part of the advertising contract for the public transport network ilévia, signed with Transpole, a subsidiary of Keolis," the group added.


Copyright (c) 2019 CercleFinance.com. All rights reserved.