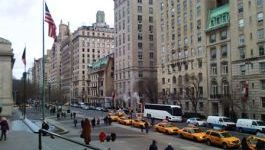 Alten: 2017 earnings up sharply
(CercleFinance.com) - Alten reported 2017 net income, group share of 147 million after trading on Tuesday, up 30.
7% y-o-y.

However, the group's operating margin fell by 500 bp to 9.8%. The group imputed this fall to an unfavourable calendar effect (2 less working days in 2017 relative to 2016), as well as a reinforcement of management teams, which was necessary to support growth. Nevertheless, its margin rose over H2, reaching 10.2%.

In addition, Alten generated revenues of 1.98 billion euros, up 13% as reported (+7.9% like-for-like), including exports of 1.06 billion euros (+15.6%) and domestic sales of 914.4 million euros (+10.1%).

Regarding its outlook, Alten said that it will continue its strong development, thanks to dynamic external growth and organic growth, in compliance with its margin policy.



Copyright (c) 2018 CercleFinance.com. All rights reserved.