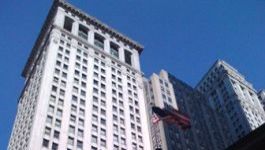 Crédit Agricole: underlying earnings down 5.2%.
(CercleFinance.com) - Credit Agricole SA has published Q3 2017 underlying net income, group share (excluding extraordinary items) of 966 million euros, down 5.
2%, meaning underlying EPS of 0.31 euro.

At 4,564 million euros, underlying net banking income (NBI) grew by 3.5% (-0.8% at a constant consolidation scope), despite a particularly high contribution from the corporate and investment banking division in Q3 2016.

At end-September 2017, Credit Agricole SA had an unphased CET1 solvency ratio of 12%, down 40 basis points from 30 June, but up 30 bp proforma (before the acquisition of Pioneer Investments).


Copyright (c) 2017 CercleFinance.com. All rights reserved.