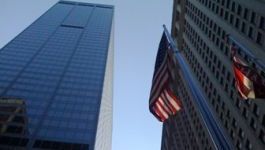 Icade: confirms target for growth in cash flow.
(CercleFinance.com) - Icade's total revenues amounted to 1,152.
9 million euros at 30 September 2017, up 16.1% y-o-y. Performance was boosted by the group's property development division (+28.2%).

Rental income of the tertiary real estate division came in at 279.7 million euros, down 1.0%. Rents remained stable at a constant consolidation scope for offices and business parks.

Economic turnover of the Property development division came in at 811.1 million euros, up sharply (+32%) compared to Q3 2016.

Given the company's favourable outlook, Icade confirmed its target for growth in underlying net cash flow for group/share of 7% compared to 2016.


Copyright (c) 2017 CercleFinance.com. All rights reserved.