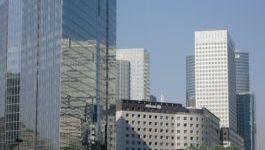 Siemens Gamesa: strategic plan aims at cost reductions
(CercleFinance.com) - Siemens Gamesa Renewable Energy (SGRE) will adopt a series of measures with the aim of unlocking two billion euros of cost reductions as the wind turbine company adopts a new strategic plan.


The 2018-2020 plan unveiled this morning in Madrid includes accelerated delivery of merger synergies - estimated at over 400 million euros by 2020, along with a fine-tuning of the group's product portfolio and the restructuring that is already underway.

Despite increasing competition in the sector, Siemens Gamesa also expects to outperform the market in terms of sales, while maintaining a strict control of its balance sheet.

The wind power onshore market is expected to grow by 5% until 2020, while the offshore market should increase by 13% through to 2025.

The Siemens Gamesa stock - listed in Madrid - was up 1.4% after these announcements were made.

Copyright (c) 2018 CercleFinance.com. All rights reserved.