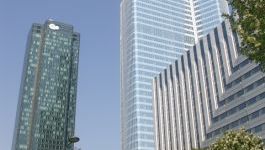 Zalando: forecasts sharp rise in Q3 sales.
(CercleFinance.com) - Zalando announced on Wednesday morning that it expects revenues of between 1.
064 billion and 1.081 billion euros in Q3 of its fiscal year, up 27.5% to 29.5% y-o-y.

Adjusted Ebit of the German specialist in the online sale of footwear and clothing is expected to vary by between -5 million euros and +5 million euros, meaning a margin of -0.5% to +0.5%.

Over the first 9 months, adjusted Ebit is expected between 97 million and 107 million euros. Meanwhile, revenues are expected to be between 3.15 billion and 3.16 billion euros at 30 September, up by 23.5% to 24.1% from the first three quarters of the year ended.


Copyright (c) 2017 CercleFinance.com. All rights reserved.