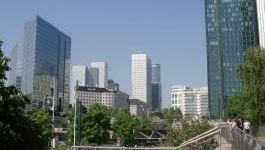 Osram: ams lowers threshold for offer
(CercleFinance.com) - ams, the Austrian sensor specialist that is making a takeover bid for German lighting group Osram, said that it has cut its acceptance threshold to de-risk the offer and achieve success sooner.


ams said it intends to lower the acceptance threshold of the offer to 62.5%, from the previous 70%, reflecting further analysis of Osram's shareholder base.

The move comes as Osram continues to express "concerns" about the takeover.

In a statement, the Munich-based company said that it would prefer a private ownership structure for its transformation from a vertically integrated lighting expert to a high-tech photonics player.

In addition, Osram said it has a number of open questions on strategy. However, the group said that the deal is attractive from a financial viewpoint and therefore recommended the offer.

Meanwhile, ams remains convinced that it will successfully acquire the ligthing company. The chipmaker expects to hold an EGM around end of October 2019 to approve 1.5 billion euros equity issuance for partial refinancing of its 4.2 billion euros acquisition bridge loan facility.

ams shares were down 4% this morning, while Osram was up 0.6%.

Copyright (c) 2019 CercleFinance.com. All rights reserved.