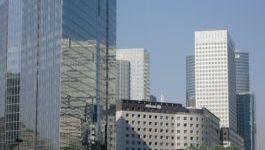 E.ON: UK offshore wind farm starts producing electricity.
(CercleFinance.com) - German energy group E.
ON said on Tuesday that the offshore wind farm of Rampion in the English Channel, located 13 kilometres off the Sussex coast, has started generating electricity.

The 400 megawatt project, which is built and operated by E.ON as majority owner, had already reached a significant milestone in September 2017, with the installation of all 116 turbines having been completed ahead of schedule.

For the record, each turbine consists of an 80 metre high tower that weighs approximately 200 tonnes, which is equiped with blades of 55 metres in length.

Copyright (c) 2017 CercleFinance.com. All rights reserved.