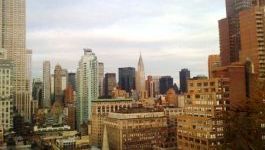 Bayer: aims to become carbon-neutral by 2030
(CercleFinance.com) - Bayer is increasing its sustainability efforts, as the German drug and crop chemical maker aims to become carbon-neutral in its operations by 2030.


The Leverkusen-based company has said that it will implement energy efficiency measures, switch to 100% renewable electricity and offset the remaining emissions through biodiversity-enhancing carbon capture.

Bayer is also part of in a project that includes over 700 companies that have committed to take action to help the climate and set emission reduction targets to limit the increase in global temperature to below 2°C.

In addition, Bayer aims to reduce greenhouse gas emissions - per kilogram of crops produced in major agricultural markets - with the environmental impact of crop protection by 30% by 2030 in each case, it said.

Copyright (c) 2019 CercleFinance.com. All rights reserved.