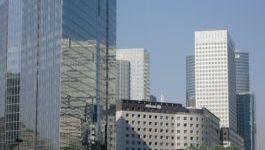 Linde: sets dividend ahead of merger with Praxair
(CercleFinance.com) - Linde on Monday proposed a dividend payment of seven euros per share, as the German industrial gas giant moves on with its planned merger with US rival Praxair.


Its executive board has decided to propose the payout in the resolution on the appropriation of profits, which will be submitted ahead of the group's 2018 general meeting.

Linde said the dividend includes earnings distribution of 3.90 euros per share for the financial year 2017 and an amount equal to the dividend for three quarters of the currently anticipated dividend for the financial year 2018, which is 3.10 euros.

The proposed dividend reflects the provisions of the business combination agreement governing the merger with Praxair, it said.

Praxair is also expected to pay a dividend to its shareholders for three quarters of the financial year 2018.

Despite the European Commission opening an in-depth investigation regarding the deal, Linde and Praxair plan to complete their merger in the second half of 2018.

Copyright (c) 2018 CercleFinance.com. All rights reserved.