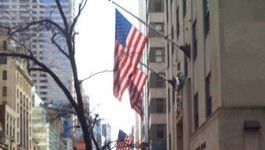 Hugo Boss: 2017 accounts and forecasts for 2018 sanctioned
(CercleFinance.com) - The Hugo Boss share is in a spin on the Frankfurt Stock Exchange this morning, sliding 4% after the German upmarket ready-to-wear group unveiled 2017 accounts that are slightly below expectations, coupled with cautious 2018 forecasts in terms of profitability.


Last year, the group from Metzingen reported sales that inched up just 1% to 2.7 billion euros, or +3% excluding FX factors, thanks to Asia/Pacific and Europe. Excluding FX factors, sales at its proprietary store network (+5%) offset wholesale sales (-2%).

Nevertheless, adjusted EBITDA did not follow suit, and fell by two million euros, to 491 million euros, trimming the corresponding margin from 18.3% to 18%. According to Bryan Garnier, the consensus was expecting 496 million euros, and a margin of 18.2%. The improvement in the group's gross margin has been offset by higher operating expenses, the group says, and the FX factors knocked about 20 million euros off the result. Finally, net income rose 19% to 231 million euros. The group will propose a 5-cent increase in its dividend to 2.65 euros (vs. 2.60 euros) at its AGM.

Group management remains cautious for 2018, and expects revenues whose growth, excluding FX factors, could reach up to 5%, with adjusted EBITDA changing by between -2% and +2%, and net income that could also increase by up to 5%.


Copyright (c) 2018 CercleFinance.com. All rights reserved.