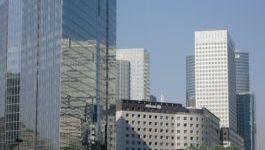 HeidelbergCement: raises synergy targets for 2018; shares up
(CercleFinance.com) - HeidelbergCement said on Tuesday that it expected to generate 550 million euros worth of synergies by the end of 2018, up from 470 million euros previously, on the back of macroeconomic developments that as a whole are positive.


The German cement company said 2017 was a "record year" for sales volumes, revenue and income from current operations.

In the fourth quarter alone, the group's revenue rose by 1% to 4.3 billion euros, with its result from current operations growing by 35% to 610 million euros.

Analysts at Bryan Garnier - who maintain their "buy" rating on the stock - cited a "solid trading statement."

"The share should react well today, especially after the recent weakness," the broker said.

The HeidelbergCement stock is currently trading 1.3% higher today, at 84.6 euros, and is one of the best performers of Germany's DAX index.

Copyright (c) 2018 CercleFinance.com. All rights reserved.