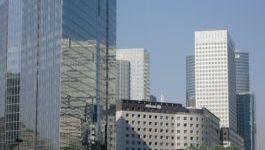 Continental: speakerless 3D audio system with Sennheiser
(CercleFinance.com) - At CES 2020 in Las Vegas, German auto parts maker Continental and audio specialist Sennheiser presented a speakerless system using surfaces in the vehicle interior to produce sound.


The new concept abandons conventional speaker technology to achieve 3D sound reproduction, turnings the vehicle into an instrument, the companies said.

In this technology, specially developed actuators drive specific surfaces in vehicle interiors, resulting in a much lower weight and significantly reduced box volume, they said.

The partners said that they have integrated Sennheiser's patented 3D audio technology into Continental's Ac2ated sound system.

Copyright (c) 2020 CercleFinance.com. All rights reserved.