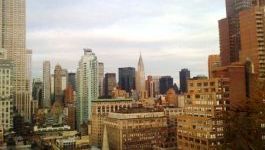 BMW: November group sales up 1.4%
(CercleFinance.com) - German premium carmaker BMW said that its group sales rose by 1.
4% year-on-year in November to 225,662 units.

Once again, growth was lifted by its largest market, China, where sales of its BMW and Mini brands rose by 2.1% to 68,366 vehicles last month.

"After renewed growth in November, we continue to approach a new record for the full year as planned," said Pieter Nota, board member in charge of customers, brands and sales.

Deliveries in the year to end-November rose by 1.7% year-on-year, to 2,296,174 vehicles sold, the group said.

Sales of group electrified models reached a new all-time high of 17,480 units in November, it added.

Copyright (c) 2019 CercleFinance.com. All rights reserved.