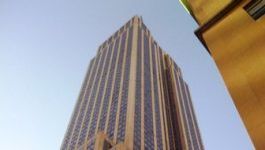 Novartis: multiple sclerosis drug shows efficacy
(CercleFinance.com) - Novartis' experimental drug to treat relapsing multiple sclerosis has showed "robust efficacy" in Phase III trials, the Swiss drugmaker said on Friday.


Novartis today presented positive results of two studies at the congress of the European Committee for Treatment and Research in Multiple Sclerosis (ECTRIMS) in Stockholm.

Data from both studies show that ofatumumab was superior to Sanofi's Aubagio in patients with relapsing forms of multiple scelrosis.

Both studies met their primary endpoints, with ofatumumab showing a highly significant and clinically meaningful reduction in the number of confirmed relapses.

Novartis obtained rights for ofatumumab in 2015.

Copyright (c) 2019 CercleFinance.com. All rights reserved.