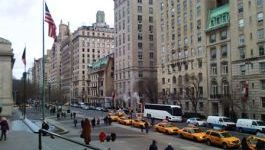 LafargeHolcim: CO2 capture project in Colorado
(CercleFinance.com) - Svante, LafargeHolcim, Oxy Low Carbon Ventures LLC (subsidiary of Occidental) and Total announce their intention to jointly conduct a study to assess the viability and design of an industrial scale CO2 capture plant.


This study, conducted at the Holcim Portland cement plant in Florence (Colorado), aims to assess the cost of such a facility, which would be designed to capture up to 725,000 tonnes of CO2 from the cement plant each year, which is then stored underground by Occidental.

This joint initiative follows the CO2MENT project that was recently launched by Svante, LafargeHolcim and Total at the Lafarge Richmond cement plant in Canada, which has already led to progress in the reinjection of CO2 captured in cement.


Copyright (c) 2020 CercleFinance.com. All rights reserved.