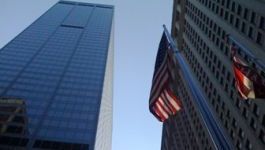 Credit Suisse: targets RoTE of around 10% in 2020
(CercleFinance.com) - Credit Suisse aims to achieve a return on tangible equity (RoTE) of approximately 10% in 2020, below its medium-term goal of at least 12%, the Swiss investment bank said at its investor day on Wednesday.


This forecast assumes that markets remain challenging in 2020, the group said.

However, if markets are "constructive" and support revenue growth, Credit Suisse expects its year-end 2020 RoTE to be approximately 11%, it added.

For 2019, Credit Suisse expects to achieve a reported RoTE of at least 8%.

In comparison, the consensus expects RoTE of 7.9% in 2019 and 8.9% in 2020.

Credit Suisse also said it expects to distribute at least 50% of its net income to shareholders, through a combination of dividends, which are expected to increase by at least 5% each year, and share buybacks.

The Swiss bank has approved the purchase of up to 1.5 billion Swiss francs of ordinary shares for 2020, with at least 1 billion Swiss francs expected in 2020.

Its shares are currently down 0.5% in Zurich.

Copyright (c) 2019 CercleFinance.com. All rights reserved.