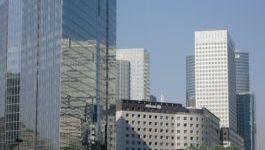 Roche: new regimen reduces risk of kidney cancer death.
(CercleFinance.com) - A Phase III study has showed that Roche's Tecentriq and Avastin reduce the risk of disease worsening or death for the initial treatment of certain people with advanced kidney cancer, the Swiss drugmaker said on Monday.


"We believe that the regimen of Tecentriq and Avastin may enhance the potential of the immune system in the initial treatment of advanced kidney cancer," commented Sandra Horning, Roche's chief medical officer.

The Basel-based pharmaceutical group plans to present the results at an upcoming oncology conference in 2018.

Separately, Roche said a phase II trial has showed that its investigational polatuzumab vedotin plus bendamustine and MabThera/Rituxan increased complete response rates compared in previously treated aggressive lymphoma.

Finally, Roche has unveiled new data from an ongoing clinical development in people with haemophilia A, which shows that subcutaneous Hemlibra prophylaxis demonstrated superior efficacy compared to prior treatment.

Copyright (c) 2017 CercleFinance.com. All rights reserved.