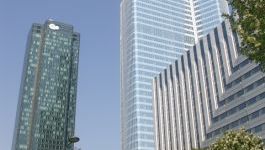 Roche: Avastin approved in US for aggressive brain cancer.
(CercleFinance.com) - The US Food and Drug Administration has approved Genentech's Avastin for the treatment of the most aggressive form of brain cancer, the biotech arm of Roche said on Tuesday.


The FDA has granted full approval for Avastin for the treatment of adults with glioblastoma, a form of cancer that is very difficult to treat, when the illness has progressed following previous therapy.

Avastin - an antibody which is designed to bind to a protein that plays an important role in tumors - is now approved in the United States for six different types of cancer.

Copyright (c) 2017 CercleFinance.com. All rights reserved.