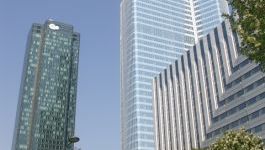 Umicore: BlackRock raises stake to 3.1 percent
(CercleFinance.com) - U.
S. asset manager BlackRock has raised its stake in Belgian speciality materials group Umicore to approximately 3.1 percent, Umicore said on Thursday.

Umicore did not say from what level BlackRock's stake had risen to cross the 3 percent threshold that obliges shareholders to disclose their holdings, but historical data showed BlackRock last week held about 2.9 percent of the stock.

BlackRock informed Umicore that in total (direct voting rights plus equivalent financial instruments), it now holds about 5.3% of Umicore's shares and voting rights.

Copyright (c) 2019 CercleFinance.com. All rights reserved.