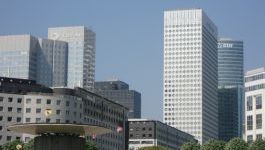 Schlumberger: Q3 profit up, thanks to US fracking.
(CercleFinance.com) - Oilfield services company Schlumberger reported higher quarterly profits on Friday, thanks to the strenghth of its hydraulic fracturing and drilling businesses in North America.


Schlumberger's Q3 net profit came in at 545 million dollars, or 39 cents per share, up from 176 million dollars, or 13 cents a share, a year earlier.

Quarterly revenue increased by 13% to 7.9 billion dollars, up 6% sequentially.

The Houston-based firm said that it has continued to gain market share in both hydraulic fracturing and drilling services in North America, despite the decelerating rig count growth.

Schlumberger also saw strong sequential activity growth in Russia, the North Sea, and Asia, while activity in the rest of the world was largely flat compared with the second quarter, it added.

Schlumberger shares are up 0.1% in pre-market trading on the New York Stock Exchange.



Copyright (c) 2017 CercleFinance.com. All rights reserved.