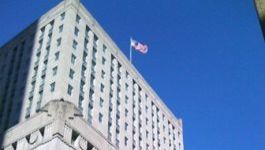 RWE: profit down on lower power prices
(CercleFinance.com) - German utility group RWE said on Tuesday that first-quarter operating performance fell, in line with expectations.


From January to March, the energy group posted adjusted EBITDA of 1.9 billion euros, compared to 2.1 billion euros a year ago.

Its net income dropped to 517 million euros, versus 689 million in the first quarter of 2017.

Revenue fell by 7.3% to 11.6 billion euros, due to lower margins and wholesale prices at the power generation business.

RWE said it received an average price of just 28 euros per megawatt hour from lignite and nuclear power, down from 31 euros last year.

In its statement, RWE confirmed it plans to increase its ordinary dividend for fiscal 2018 to 0.70 euro.

RWE shares are currently down 1.6% this morning.

Copyright (c) 2018 CercleFinance.com. All rights reserved.