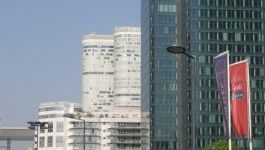 Wells Fargo: head of consumer lending dismissed.
(CercleFinance.com) - Wells Fargo & Company said on Friday that Franklin Codel, head of its consumer lending business, has been dismissed, effective immediately, after the executive acted in a manner that was "contrary to the company's policies.
"

The second largest US bank by consolidated assets said that the reasons for the dismissal did not involve the business or operations of consumer lending, or its performance or financial results.

The dismissal also did not relate to sales practices, Wells Fargo added.

The bank only said that the executive had behaved against company policies and expectations during a communication he had with a former team member regarding that team member's departure from the company.

Wells Fargo expects to announce a permanent successor to head the consumer lending unit by the end of the year.



Copyright (c) 2017 CercleFinance.com. All rights reserved.