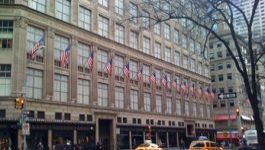 Verizon: strikes multi-year deal with NFL.
(CercleFinance.com) - Verizon has signed a multi-year partnership with the National Football League to deliver live games and content across its mobile and digital media network.


Under the terms of the deal, Verizon - which now includes Yahoo Sports - will stream in-market and national games, including national pre-season, regular season, playoff games, as well as the Super Bowl nationwide.

The partnership is set to kick off in January 2018.

With Verizon and Oath's position in US millennial reach and more than 200 million US monthly unique mobile and digital views, NFL content will reach "a massive digital audience," the telecoms group said.

For the record, a year ago, Verizon completed the acquisition of Yahoo!'s Internet businesses and merged them into a group called "Oath."

Copyright (c) 2017 CercleFinance.com. All rights reserved.