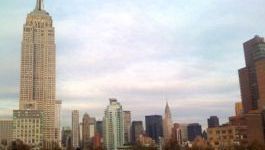 Twitter: audience grew in the third quarter.
(CercleFinance.com) - Investors cheered Twitter on Thursday, after the social network grew its audience in the third quarter, prompting the shares to jump over 10% in premarket trading.


While this indicator has tended to decline recently, there were average 330 million monthly active users (MAU) over the quarter, up 4% year-on-year and compared to 326 million in the previous quarter.

Beyond the number of users, Twitter said that it has moved towards renewing its growth in revenues over the past quarter, with revenue falling by just 4% to 590 million dollars.

On a GAAP basis, Twitter's third-quarter net loss fell to 21 million dollars, or 3 cents per share, from a net loss of 103 million, or 15 cents per share, a year earlier.

The firm also said that it expected that it expects to be GAAP profitable in the fourth quarter at the high end of its adjusted EBITDA range of between 220 million and 240 million dollars.

Copyright (c) 2017 CercleFinance.com. All rights reserved.