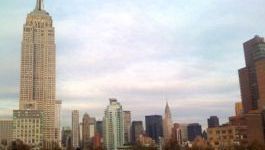 Travelers: results hit by the hurricanes.
(CercleFinance.com) - The Travelers Companies reported adjusted net earnings that had been divided by almost three at 253 million dollars for the past quarter, representing 91 cents per share, even though analysts were even more pessimistic, expecting 15 cents less.


The insurance company explains this sharp deterioration in its results by the natural disasters that have knocked 1.63 dollar off its adjusted EPS, mainly the Hurricanes Harvey, Irma and Maria, as well as the storms and hailstorms that have hit the United States.

The group nevertheless boasted net premiums written that are up 4% at a record 6.66 billion dollars, reflecting growth at each of its segments, including particularly strong growth in personal insurance (+9%).


Copyright (c) 2017 CercleFinance.com. All rights reserved.