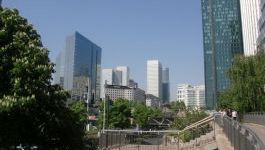 Qualcomm: Broadcom cuts offer after NXP deal
(CercleFinance.com) - Broadcom said on Wednesday that it has cut its offer on Qualcomm to reflect the recent sweetened bid that Qualcomm made for NXP Semiconductors.


The company said it is now offering 79 dollars per Qualcomm share, including 57 dollars in cash and 22 dollars in Broadcom shares, down from 82 dollars previously.

Broadcom said the price reflects Qualcomm's revised agreement to acquire NXP at 127.50 dollars per NXP share, which was announced yesterday.

According to Broadcom, Qualcomm's board acted "against the interests" of the group's shareholders by "unilaterally transferring excessive value to NXP's activist stockholders."

As a result, Qualcomm shares were trading 1.5% lower on Wednesday, while the Broadcom stock was up 0.6%.


Copyright (c) 2018 CercleFinance.com. All rights reserved.