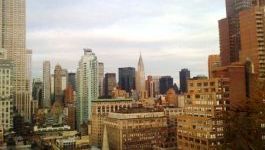 Qualcomm: raises bid for NXP; lowers acceptance level
(CercleFinance.com) - On Tuesday, Qualcomm has sweetened its friendly bid for rival chipmaker NXP Semiconductors, while lowering the minimum threshold for the tender offer.


Itself being approached by Broadcom, Qualcomm said it has reached an agreement with NXP to increase its previously announced cash tender offer to 127.5 dollars per share, to purchase all outstanding shares.

The agreement, which has been approved by both the Qualcomm and NXP boards, also lowered the minimum tender condition from 80% of NXP's shares to 70%.

The revised price reflects NXP's recent performance, strong market dynamics and positive outlook, Qualcomm said.

Qualcomm shares are currently down around 2% in pre-market trading, while NXP's stock is bubbling - up over 6% - on the New York Stock Exchange.



Copyright (c) 2018 CercleFinance.com. All rights reserved.