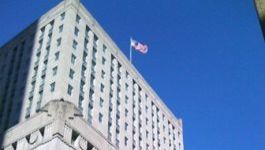 Qualcomm: 'open to discussions' about merger with Broadcom
(CercleFinance.com) - Two days after meeting with Broadcom representatives, Qualcomm's management team said on Friday that the group was "open to discussions" about a potential merger with the wireless chipmaker.


While deeming the current Broadcom proposal "unacceptable," chairman Paul E. Jacobs said Qualcomm's board found the meeting to be "constructive".

In particular, Qualcomm seems to be pleased that Broadcom executives have expressed a willingness to agree to certain potential antitrust-related divestitures.

However, for the time being, Qualcomm's board unanimously thinks that the 82 dollars per share bid made by Broadcom still "materially undervalues" the company and has an "unacceptably high level of risk."

Qualcomm shares were down 0.3% after this statement, while the Broadcom stock was down 0.7%.


Copyright (c) 2018 CercleFinance.com. All rights reserved.