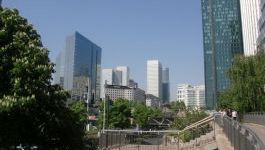 Qualcomm: 'dialogue of the deaf' with Broadcom continues
(CercleFinance.com) - Qualcomm said late on Thursday that its board of directors unanimously rejected the revised offer made by Broadcom, although the company has accepted to meet with its rival to see if they can address the "serious" deficiencies in the proposal.


The California-based mobile chip designer continues to think that Broadcom's offer "materially undervalues" the firm and falls well short of regulatory commitments given the significant downside risk of a failed transaction.

This fell on deaf ears.

Following Qualcomm's announcement that it is willing to meet, Broadcom has reiterated that a price of 82 dollars per Qualcomm share was its "best and final offer."

Copyright (c) 2018 CercleFinance.com. All rights reserved.