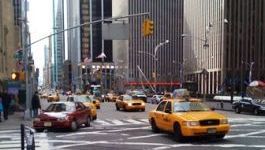 Qualcomm: beats consensus in Q3.
(CercleFinance.com) - Published after Wall Street closed on Wednesday, Qualcomm's Q3 results exceeded expectations.


The specialist in the design of telecom solutions, which is currently in a commercial dispute with Apple, indeed saw its net income collapse 89% to 168 million dollars, due to an extraordinary provision of 778 million dollars for this dispute (which concerns patents around components in the iPhone and iPad and which is currently subject to litigation), along with the risk of a fine in Taiwan for a dominant market position and another legal dispute with Blackberry. Excluding these extraordinary items, Qualcomm's EPS reached 92 cents, compared to the consensus of 81 cents.

Down 4.4% relative to Q3 2016, the group's revenues reached 5.9 billion dollars, 100 million dollars above the consensus.

Qualcomm expects EPS of between 85 cents and 95 cents on revenues of 5.5 billion to 6.3 billion dollars over Q4. Meanwhile, the consensus expects 90 cents and 5.9 billion dollars respectively.


Copyright (c) 2017 CercleFinance.com. All rights reserved.