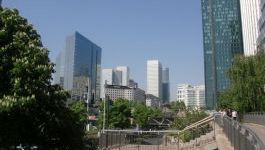 PepsiCo: to achieve 100% renewable electricity this year
(CercleFinance.com) - Beverage and snack maker PepsiCo on Wednesday revealed plans to achieve 100% renewable electricity for its US direct operations this year.


To reach its target, PepsiCo said it plans to use power purchase agreements (PPAs) and virtual power purchase agreements (VPPAs), which finance the development of new renewable electricity projects such as solar and wind farms.

The company also said that it recently installed new solar panels at its Purchase, New York, headquarters.

The US is the food and beverage company's largest market and accounts for nearly half of its total global electricity consumption.

In Europe, Pepsi said that nine countries in its direct operations have already met 100% of their electricity demand from renewable sources.

Meanwhile, in Mexico, 76% of the electricity needs of its foods business unit were delivered via wind energy in 2018.

Copyright (c) 2020 CercleFinance.com. All rights reserved.