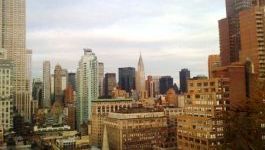 JCPenney: shares plummet after full-year guidance slashed.
(CercleFinance.com) - JCPenney has slashed its full-year revenue and profit guidance as the company accelerated the liquidation of inventory, sending its shares plummeting almost 20%.


This morning the US retailer cut its full-year comparable store sales growth estimate to -1% to 0%, from -1% to +1% previously.

More importantly, the company cut its adjusted EPS forecast to between 0.02 dollar and 0.08 dollar, a long shot from a previous forecast of 0.40 to 0.65 dollar.

For the third quarter, a period that will end tomorrow, 28 October, JCPenney expects that comparable store sales will increase in a range of 0.6% to 0.8%, with a loss per share of between 0.45 dollar and 0.40 dollar.

While acknowledging that these actions will create a short-term negative impact on earnings, over the long term, the retailer "firmly believes" that it was the right decision to take as it transitions into the fourth quarter and fiscal-year 2018.

Apparently investors did not agree with this statement, sending the shares down 19% at 2.97 dollars in early trading on Friday.

Copyright (c) 2017 CercleFinance.com. All rights reserved.