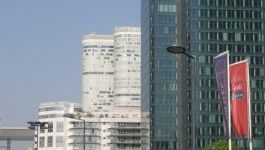 Oracle: shares fall after profit guidance disappoints.
(CercleFinance.com) - Shares in Oracle were down 6% at 47.
2 dollars on Friday, after the enterprise software maker announced a profit guidance that fell short of analysts' forecasts.

While the Redwood Shores, California-based company saw non-GAAP earnings per share jump 14% to 0.70 dollar in the second quarter of its fiscal year 2017/2018 - on revenues that rose 6% - the firm said it was expecting revenue growth of just 2% to 4% in the third quarter.

The consensus was looking for growth of 4% for the current quarter.

Jefferies - which has a "buy" rating on the shares with a target price of 61 dollars - said results were "strong," but pointed out that cloud revenue and cash flow were "lighter than anticipated."

Howerver, the broker believes business momentum in cloud continues to build and this will result in meaningful cash flow growth over time.

Credit Suisse made similar comments, maintaining an "outperform" rating and a 62 dollars target price on the stock.

While the broker cites "solid" quarterly results, it also highlights a "difficult-to-predict yet definitive cloud transition" for the Californian software maker.

Canadian broker Canaccord Genuity may have the last word, describing a "confusing" quarter - to say the least - with a "mixed set of results."

Canaccord said it maintains a "buy" rating on Oracle shares, but admits concerns of a possible "value trap."

"We are willing to give this company one more quarter to prove it has not become a recurring scuffler," the broker said in a research note sent to clients.

Copyright (c) 2017 CercleFinance.com. All rights reserved.