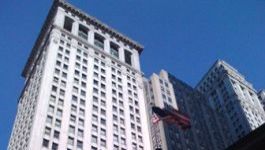 Nvidia: exceeds expectations in Q4
(CercleFinance.com) - On Thursday evening Nvidia announced quarterly earnings that are up 71% at 1.
12 billion dollars, or 1.78 dollar per share.

Adjusted EPS rose 52% to 1.72 dollar, beating the consensus by around 40 cents.

The designer and supplier of graphics processing units (GPUs) benefited from both a 34% increase in revenues to 2.91 billion dollars and a 1.9 point rise in its adjusted gross margin to 62.1%.

Over FY 2017, Nvidia reported adjusted net income that was up 67% at nearly 3.1 billion dollars, or 4.92 dollars per share, for revenues that were up 41% to over 9.7 billion dollars.


Copyright (c) 2018 CercleFinance.com. All rights reserved.