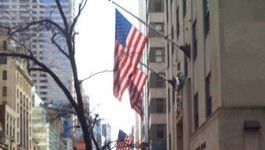 News Corp: reduces net loss in Q2
(CercleFinance.com) - On Thursday evening the media and publishing group News Corp announced a net loss of 66 million for Q2 (to end-December), i.
e. 14 cents per share, vs. 50 cents per share a year ago.

Adjusted for extraordinary items, and particularly a cost resulting from the tax reform in the US, EPS increased by a quarter to 24 cents. Meanwhile, analysts were expecting it to stagnate at 19 cents.

EBITDA of News Corp's segments rose by 1% to 329 million dollars, with its revenues up 3% at 2.18 billion dollars, in particular, boosted by a 21% rise in the revenues of its Digital Real Estate Services segment.


Copyright (c) 2018 CercleFinance.com. All rights reserved.